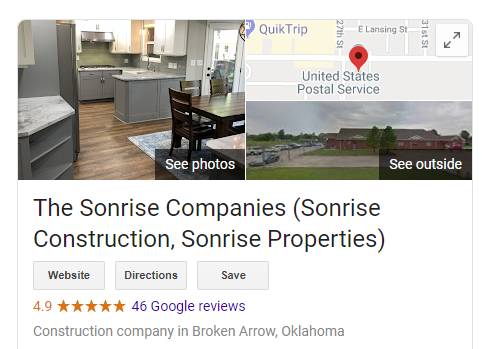 4.9 Stars On Google
We contracted with Sonrise Construction to remodel our bathrooms. The proprietors, as well as their team were extremely trustworthy and professional. It's very hard these days to find such reputable, honest and skilled contractors who show up when they say they will do the work as agreed to and follow up on any issues that arise. We were so grateful for everything they did for remodeling of our bathroom. Thanks for their excellent job.
Albert Nick
We recently contracted with Sonrise Construction Company for ADA wheelchair accessible home renovations. They installed an incredible roll-in shower, added grab bars, remodeled sink area, added new lighting and installed new flooring throughout the house. As an "Aging in Place" certified remodeler, Mike Fournier and his staff listened to what we needed, made great recommendations, and paid attention to detail throughout the process creating a quality outcome that exceeded our expectations!
We are extremely pleased with the beauty and functionality of our renovated spaces and recommend this company for ANY of your home remodel or building needs. Thanks to Mike and his incredibly experienced staff for giving us the confidence and security of knowing our current home will meet our ADA needs for years to come.
Mary Wheeler
---
We couldn't be more pleased. Beautiful job. Your workers were great! Friendly and hardworking. Thanks so much.
R. Stewart
Kitchen Remodeling Job
---
Wanted to tell you that we enjoyed having Michael update our bathroom. He is very personable and we liked him. Our bathroom looks so nice now. Thank you.
D. Rooker
Bathroom Remodeling Job
---
Thanks for the prompt and excellent service.
G, Hagood
Outdoor Fireplaces Tulsa
---
Thank you for the prompt service.
M. Cyrus
Tulsa Pergolas
---
Thanks for the great work on the beams. Will recommend you to my friends and call for future projects.
C. Johnson
Carpentry Beams
---
With the building of this house and other improvements, additions we have made since being here, we have dealt with lots of different people and companies... and I mean lots. I have to tell you, you and Emilo have to be the most organized and thoughtful people we have ever worked with. It was a joy and a very pleasant experience. Thank you.
C. Parker
Home Remodels
---
All I can say is WOW! They did an amazing job and were so nice. Thank you so much.
L. Johnson
Tulsa Outdoor Kitchen
---
Thank you for the beautiful work on our shower.
B. Pryor
Bathroom Remodeling Tulsa
---
Thank you for creating an amazing space for us!
B. Moseman
---
Thank you again for finishing our attic so quickly. Michael and Bill did a great job.
P. Wilson
Attic Work Tulsa
---
"Thanks again for the amazing work on the deck. We hope to use you all again in the future and would recommend your company to anyone."
J. Pillars
Tulsa Deck Installs
---
Your guys did great work, and I love to watch the system running early in the morning!
DAVID AMON
Tulsa Home Remodels
---
Your irrigation repair crew did an outstanding job for us. You may gladly use our name as a reference.
CARL SHORE
Irrigation Work
---
Your references were glowing. It was the first time that I have ever had a company do MORE than what I had anticipated, instead of less. I even tipped the crew, I was so pleased with the job.
RITA ADAMS
Tulsa Home Repair
---
I liked everything about Sonrise. They were prompt and responsive. They did great work. I had contacted a lot of other companies, and either they didn't show up to do the work, or were not accomodating to my needs. Sonrise though was a class act. Thank You!
POSTED ON ANGIE'S LIST
Tulsa Garage Repair
---
I used Sonrise to install a drainage system. It worked great! I thought I would need something more expensive, but their solution was more affordable. I trusted them. They were real friendly. They were easy to work with. I liked working with them.
POSTED ON ANGIE'S LIST
Drainage Work Tulsa
---
Thank you again for the good service. You have a very nice crew of men. If we hear of any of our friends needing service, you can be sure that we will recommend you.
THE TUTTLES
Home Repair Tulsa
---
Thank you so much. The adjustments really needed to be done.
JANICE BURNETT
Aging in Place
---
Thanks so much! It is such a relief to to get the job completed.
JOAN CAMPBELL
Tulsa Home Remodel
---
Each time we have contracted with Sonrise, you have always been very professional, kind, courteous, and reasonably priced. We chose you because of your customer service, your pricing, and your willingness to listen. We appreciate doing business with you because of your honesty, your integrity, and your willingness to provide excellent customer service. We have recommended you to numerous people, and we will continue to.
RICHARD & REBECCA CARTER
Decorative Concrete Work
---
Very nice work. I referred your company to my neighbor for a retaining wall.
VIRGIL HENSLEY
Tulsa Retaining Walls Work
---
Your guys did a great job! Thank you for your commitment to the project, and for your attention to detail.
NATE GARRETT
Tulsa Patio
---
Thanks Mike. Your guys are great! I would be happy to recommend you, and will post a great review of your company on Angies List.
MIKE VEGHER
Tulsa Retaining Walls
---
Mike, thanks again for everything. Your guys did a great job. God Bless!
ANDREW F.
Home Remodeling Tulsa
---
Thank you Mike for your promptness and continued excellent service!...
CHRIS HINNEN
Home Repair
---
Mike, thank you! I will gladly be a very good reference for your company if you ever need one....
ED GROSS
Tulsa Kitchen Remodel
---