Now in our 20th year home remodeling and custom design, we are quite pleased with the number of awards that we have won; considering them to be a testament and a reward to our high standards of quality, service, and value.
We hope you agree, and that you desire to do business with our Tulsa company for the peace of mind these awards can provide; and to show you that we are in it for the long haul, we didn't just start up this spring, and that we will be in business next year when you need us for the next phase. Maybe a bathroom and kitchen remodel for example.
We have been rated A+ from the BBB (Better Business Bureau) since 2000.
We are listed as a Preferred installer at: 1) Angie's list, 2) Home Advisor, 3) Hardscape Materials, 4) City of Tulsa, 5) City of Broken Arrow, 6) Belgard.
Perhaps you have seen these press releases in the business section of your newspaper. In case you missed any of them, here they are again:
---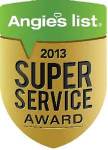 ANGIE'S LIST
Angie's List names Sonrise Construction 2011, 2012, 2013, 2014 winners of the "Super Service Gold Award."
BEST OF BROKEN ARROW
Sonrise Construction Receives 2012 "Best of Broken Arrow" Award. Broken Arrow Honors the Achievement of Sonrise. August 8, 2012 Sonrise Construction has been selected for the 2012 "Best of Broken Arrow" Award in the Construction Services category for Outdoor Living Areas, French Drains, Retaining Walls, Outdoor Fireplaces, and Outdoor Kitchens. Companies are nominated based on exceptional image, reputation, and customer service success in their local community and business categories. These local companies enhance the positive image of small business through service to their customers and our community. These exceptional companies help make the city of Broken Arrow a great place to live, work and play.
TALK OF THE TOWN 2010
Sonrise Construction was awarded 5 stars by Talk Of The Town News, for their 2010 Excellence in Customer Satisfaction Award. Ratings are calculated based on consumer-review websites and blogs, social networks, business rating services and other award information to determine the top companies across the country. Only businesses with a 4 or 5 star rating win the "Talk of the Town News, Excellence in Customer Satisfaction Award."
TALK OF THE TOWN 2011 & 2012 & 2013
Sonrise Construction has been named a 4-time repeat 5 star winner by Talk Of The Town News for 2011 & 2012 & 2013 Excellence in Customer Satisfaction Award!
READER'S CHOICE
Sonrise Construction has been honored with the 1st Place Reader's Choice 'Gold' Award for Excellence in Quality and Service. Checkout out our Tulsa Pergola page!